By Mark Ashenden
Last Updated: 23/11/17 2:17pm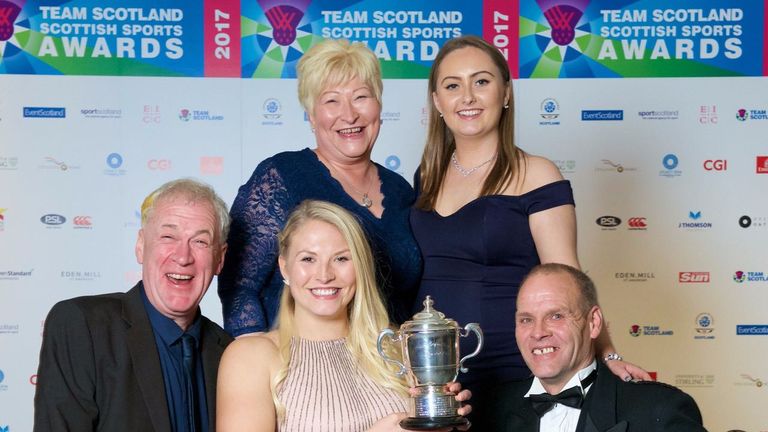 Samantha Kinghorn may well be spending the winter designing an extension to her trophy cabinet.
As well as triple European gold in 2014, plus World bronze and gold this summer, the 21-year-old from Melrose has been busy collecting other awards – Scottish Sportsperson of the Year, athletics writers' award…more are on the way.
So what does the fastest female British wheelchair racer in history make of her growing fame? And how did she survive racing in Chicago with her arm bleeding around the whole 26.2 miles?
Samantha opens up on her racing passions…..
---
It has been an incredible 2017 for me and it's just been getting better with the year coming to an end.
October has been a time of marathon training and glitzy award dinners. I started the month attempting to change myself from a sprinter to a marathoner, which proved to be a difficult task.
The training was completely endurance based in the gym and also a lot of training on the roads, and even though I'm predominantly a sprinter I really enjoy the rush and the changeable conditions with hills and sharp corners.
I love the speed of the downhill. The fastest speed I've ever been in my race chair is 49.8mph which is such a rush. The reason I'm moving up in distance is because I'd like to compete for Scotland in the Commonwealths in Australia next April.
The Commonwealth Games are an integrated para and able-bodied event and they are selective of the events in the programme – I'll have the 1500m and marathon.
I decided to do my first marathon in Chicago in October. It's known for being a nice flat course which I thought would be best for my first go at the race and also because I'd never been to Chicago!
A few weeks before I had a slight wrist injury which was stressful but luckily I was able to cross-train with swimming and a hand-bike. I had to clock around 2 hours 5 minutes to qualify but I really wanted to break two hours so I was competitive in the marathon event.
I flew to America the week ahead of the race so that I could go to Illinois University to train with the American squad who are undoubtedly the best marathon racers in the world.
It was a great experience for me, their faculties are just fantastic which meant I had a good week's training going into Chicago.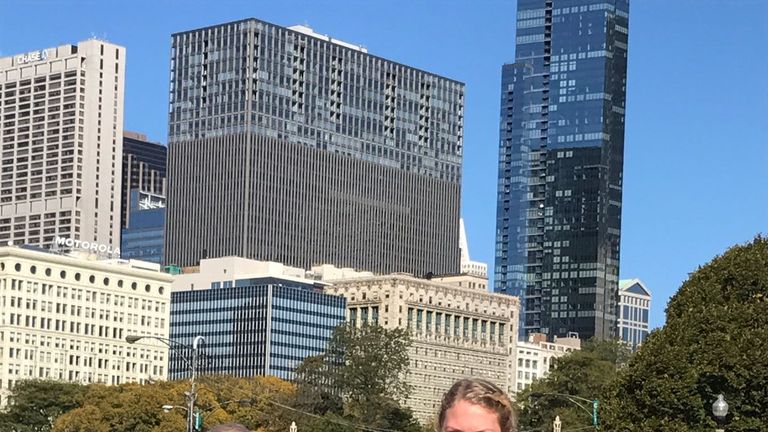 It started with a 4am alarm call followed by stomach-churning nerves. I got down to the start-line for 5.30am to make sure my chair was all set up for the 7am start.
I had a slight issue with one of my wheels rubbing on the inside of my chair so I had to resort to putting in a washer to knock my wheel out slightly. It meant it wasn't rubbing on the inside of my chair but unfortunately when the gun went I spent the next 26.2 miles with it rubbing on the inside of my arm!
It was very painful and the blood started to pour but I had a time I needed to help represent my country so nothing was going to stop me!
The distance was a huge mental struggle but I felt I coped well for my first marathon by singing a lot of songs! I kept up with some of the girls which made it a lot easier, working together and getting rest from the draught.
I completed my first marathon in 1 hr 43 mins which I was extremely pleased with.
I know I have the qualifying standard for the 1500m and the marathon and I'm hoping to compete for Scotland in both these distances so I'm just waiting in hope for the selection call.
Although I do love training, the pain and the sweat, it's always nice to get all dressed up and October means it's the start of awards season!
I've been very lucky to be nominated and received a few awards this year but there's one I'm extremely pleased to have won – the Team Scotland awards. They celebrate all sporting successes in Scotland from every sport.
It was a great night and I had my parents, best friend and coach all there on the night. I was so pleased they were there as I managed to pick up sportsperson of the year!
My name is now on a cup alongside Andy Murray and Sir Chris Hoy which I still cannot believe.
I am also the first para athlete to have won it, so it's great that para athletes are being noticed for their achievements and I'm so pleased I'm helping to break down these barriers.
You never do your sport to win awards but I'm always so pleased when I do especially when it's voted for by the public or a panel because when I compete I compete to make my country proud!
require.config({"shim":{"facebook-sdk":{"exports":"FB"}},"baseUrl":"/","paths":{"skysports_com":"static/skysports_com-061e3ebc0e3b5","skysports_digrev":"static/skysports_digrev-b6a10d2d56720","skysports_legacy":"static/skysports_legacy-6b93012007445","skysports_ipad_components":"static/skysports_ipad_components-4798d45d25479","skysports_sap":"core/js/../static/js/skysports_sap","requireLib":"static/require-2.1.0-a1a9701314ba3","class":"static/class-5816ccb26677c","countdown":"static/countdown-c7641ffec2db6","energize":"static/energize-bac53226fb-987a986fefb72","hammer":"static/hammer-a592776ebb-7052576830f37","marker-clusterer":"static/marker-clusterer-4c5ffe2adcf4a","moment":"static/moment-1.7.2-0cbd220fef299","reqwest":"static/reqwest-a845dfd832-b73e9a49d0042","scroll-pane":"static/ftscroller-280c6900bc-2372e480da3d3","underscore":"static/lodash.custom-0317bce123822","adaptive-content":"static/adaptive-content-b88c4183993e1","article-widget-betting":"static/article-widget-betting-7a9641160b027","app-bridge":"static/app-bridge-30b975666386a","article-advert":"static/article-advert-0988322d4cf51","autocomplete":"static/autocomplete-c57f6cf11c503","autocomplete-lite":"static/autocomplete-lite-f7a5dc9d980fb","accordian":"static/accordian-36dd67daf603b","betting-lines":"static/betting-lines-e2972d022b203","bskyb-omniture":"static/bskyb-omniture-c8a1d1f9773e2","bskyb-omniture-1-2":"static/bskyb-omniture-1.2-faf650522c588","calendar-url-builder":"static/calendar-url-builder-863fca999d8c8","carousel":"static/carousel-2e25c8f45ef5c","carousel-lite":"static/carousel-lite-9388c84788389","close-me":"static/close-me-1dd5bf41462eb","content-stream":"static/content-stream-ddddf3f8409bc","content-swap":"static/content-swap-bdbe29a70d8f9","countdown-widget":"static/countdown-widget-995c13560cca3","comments-reply":"static/comments-reply-aef89ae7f7532","cookie":"static/cookie-b7ad2849c52ee","cookie-notice":"static/cookie-notice-98776f99f3cf8","android-notice":"static/android-notice-58d95f174579a","create-audio":"static/create-audio-98095dd8a403d","create-video":"static/create-video-c8be44f392729","create-video2":"static/create-video2-7357c4d7c2c6c","dataset":"static/dataset-06e79bc57314d","datepicker":"static/datepicker-8f95d5438cd9e","datepicker2":"static/datepicker2-b1c15840589e2","dom":"static/dom-1b96e818d2453","dropdown":"static/dropdown-406c87e790d93","dropdown-select":"static/dropdown-select-bbaa962ff8888","edigital-survey":"static/edigital-survey-6.0.6.0-05fd200e3f782","element-listener":"static/element-listener-39391d1341a3c","environment":"static/environment-347ea834cc96a","events":"static/events-1aea3f886fe18","facebook-sdk":"//connect.facebook.net/en_US/all","fastclick":"static/fastclick-ea596eafa5-fe980e8a92fff","form":"static/form-99e3054c52e2d","form-chart":"static/form-chart-adc360767a718","form-validation":"static/form-validation-3fcf1d1929001","html-poller":"static/html-poller-bc2a89ee95424","implicit-personalisation-display":"static/implicit-personalisation-display-c8be49194a495","implicit-personalisation-storage":"static/implicit-personalisation-storage-988a0d2b4d7a1","implicit-personalisation-removal":"static/implicit-personalisation-removal-7556598e29ff5","inverted-listener":"static/inverted-listener-887fa6b248001","iscroll-lite":"static/iscroll-lite-793bc7f60192e","keyboard-listener":"static/keyboard-listener-c904a6b6ad2f2","keyboard-view":"static/keyboard-view-39a4cbfb1fbdc","lazy-images":"static/lazy-images-4d4395bb1424f","live-article":"static/live-article-c6d8748ad4994","live-cricket":"static/live-cricket-1f5c08246d47b","live-sport":"static/live-sport-77265bd8792ec","live-update":"static/live-update-c43a77554c7d9","live-refresh":"static/live-refresh-8f21359f102a1","live-refresh-darts-table-controller":"static/live-refresh-darts-table-controller-bdcdd4a1b66b5","live-refresh-darts-table-view":"static/live-refresh-darts-table-view-fe43f1c98479e","live-refresh-football-controller":"static/live-refresh-football-controller-6391462a069c4","live-refresh-football-view":"static/live-refresh-football-view-4dae4c536f6ee","live-refresh-fixture-update-controller":"static/live-refresh-fixture-update-controller-5c7cdb833d3fc","live-refresh-fixture-update-view":"static/live-refresh-fixture-update-view-4e740e64fff92","live-refresh-live-golf-leaderboard-controller":"static/live-refresh-live-golf-leaderboard-controller-6da6c4dae8ebf","live-refresh-golf-matchplay-controller":"static/live-refresh-golf-matchplay-controller-bcf08ad56b563","live-refresh-golf-matchplay-view":"static/live-refresh-golf-matchplay-view-7eb2aef719c30","live-refresh-match-header-controller":"static/live-refresh-match-header-controller-db2b9bbacac74","live-refresh-match-header-football-view":"static/live-refresh-match-header-football-view-1c97cb1111a23","live-refresh-match-header-rugby-league-view":"static/live-refresh-match-header-rugby-league-view-2ed14ab7aef68","live-refresh-match-header-rugby-union-view":"static/live-refresh-match-header-rugby-union-view-3d2f1341aa6a0","live-refresh-match-stats-controller":"static/live-refresh-match-stats-controller-db8736f4b3e01","live-refresh-match-stats-view":"static/live-refresh-match-stats-view-9ec92b99512ae","live-refresh-gp-standings-controller":"static/live-refresh-gp-standings-controller-d685226610ff6","live-refresh-gp-standings-view":"static/live-refresh-gp-standings-view-b820cc96d1d26","live-refresh-tennis-controller":"static/live-refresh-tennis-controller-105b78012c323","live-refresh-tennis-view":"static/live-refresh-tennis-view-d4baa594fa416","live-refresh-news-list-controller":"static/live-refresh-news-list-controller-ee45762f7dbe7","live-refresh-news-list-view":"static/live-refresh-news-list-view-94c9df895ac59","live-refresh-livefyre-pinned-controller":"static/live-refresh-livefyre-pinned-controller-51196848df836","live-refresh-livefyre-pinned-view":"static/live-refresh-livefyre-pinned-view-879a961ca7035","live-refresh-live-table-controller":"static/live-refresh-live-table-controller-402818303c846","live-refresh-live-table-view":"static/live-refresh-live-table-view-826db9dbd7004","live-refresh-live-table-static-view":"static/live-refresh-live-table-static-view-ba0c955254923","live-refresh-masters-live-panel-controller":"static/live-refresh-masters-live-panel-controller-cc4507f080ee9","live-refresh-matchplay-table-controller":"static/live-refresh-matchplay-table-controller-b4f412a751763","live-refresh-matchplay-table-view":"static/live-refresh-matchplay-table-view-e59d12d7142db","live-refresh-ryder-cup-controller":"static/live-refresh-ryder-cup-controller-737295aac3b2e","live-refresh-ryder-cup-view":"static/live-refresh-ryder-cup-view-fcfe775f73f4e","live-refresh-status-lookup":"static/live-refresh-status-lookup-385df3ceefde3","live-refresh-switch":"static/live-refresh-switch-122a55d025f32","live-refresh-team-events-controller":"static/live-refresh-team-events-controller-a885bed4cf7d9","live-refresh-team-events-view":"static/live-refresh-team-events-view-9b71da437cbda","live-text":"static/live-text-eeed686934d36","live-refresh-swingometer-controller":"static/live-refresh-swingometer-controller-b7ade1b72e79a","live-refresh-swingometer-view":"static/live-refresh-swingometer-view-df7acd758d28a","livefyre-auth":"static/livefyre-auth-d4712341b8e0d","livefyre-social":"static/livefyre-social-53307c6047cb1","load-into":"static/load-into-56422c1bb6f07","load-more":"static/load-more-9cf4a00544b79","load-more2":"static/load-more-05a9bb0171a4e","match-head-switch":"static/match-head-switch-b85e40ff913e7","load-more-inline":"static/load-more-inline-9c48aaf601dc5","load-more-once":"static/load-more-once-b9144ab829181","map":"static/map-41114954c91ba","media-query":"static/media-query-6b086cb9cdbf0","now-tv":"static/now-tv-122d51a8afd4d","most-popular":"static/most-popular-59368153adad3","observable":"static/observable-551cf4570a1a3","open-top":"static/open-top-610afa3fe6a7e","overlay":"static/overlay-3bbabe3e75116","overlay-widget":"static/overlay-widget-ea32471baf17d","page-nav":"static/page-nav-479fc6b85357e","parse-date":"static/parse-date-6463ce015eee7","page-filters":"static/page-filters-5f38de0bf6eeb","persistent-autocomplete":"static/persistent-autocomplete-8459865f00a4f","polaris-glint":"static/polaris-glint-90f846e5378ec","pikaday":"static/pikaday-b845015f279e9","pl-clip-promo":"static/pl-clip-promo-89f7d72031d1c","poller":"static/poller-6a822f9e0df18","polls":"static/polls-a60e64c7ba72a","poll-ig":"static/poll-ig-2cdd2051244e8","media-playlist":"static/media-playlist-4badfdd7b7f94","postpone-load":"static/postpone-load-2ae208049e0f1","postpone-load2":"static/postpone-load2-6ad484e51343f","postscribe":"static/postscribe-3737e3c2f9-e225ad22adef8","pub-sub":"static/pub-sub-f85454447e412","roadblock":"static/roadblock-83b8ebd15cd4b","update-content":"static/update-content-e13bd6706f16d","script":"static/script-27238830c957e","scroll-to":"static/scroll-to-81f401952f9be","scribble-article":"core/js/modules/scribble-article","section-nav":"static/section-nav-45aaca046c7c1","selectable":"static/selectable-cdad923d51394","selectable-list-view":"static/selectable-list-view-ea74a74341f84","share-button":"static/share-button-df6f9617e0656","site-layout-primary":"static/site-layout-primary-d66ac28011c25","site-nav-desktop":"static/site-nav-desktop-d9f3535384689","sky-go":"static/sky-go-3bc82154e5a3a","skyid-login":"static/skyid-login-7dc551a25d852","is-loggedin":"static/is-loggedin-f60f353179327","sky-sports-date":"static/sky-sports-date-72de6e6aaf735","squad-selector":"static/squad-selector-17750d8e467c8","social-map":"static/social-map-b318bbd3f27dd","sp-player":"static/sp-player-25b423286386f","sticky-scroll":"static/sticky-scroll-e7e8a734e2437","string":"static/string-0481bacf57824","swipe-nav":"static/swipe-nav-359f1662e9492","subscriber-video":"static/subscriber-video-6c35d993af265","table-sorter":"static/table-sorter-4730535f8bcad","table-sorter-lite":"static/table-sorter-7fcc466ffd2f9","tabs":"static/tabs-2ff349332d0fd","tabs-lite":"static/tabs-lite-7480c7ca1501c","tabs-filter":"static/tabs-filter-5689cee96c73b","tab-navigation":"static/tab-navigation-68b7c289a7569","team-formations":"static/team-formations-002feba324d3f","thumbs":"static/thumbs-6d15e615422e4","toggle-class":"static/toggle-class-dd3a8c4ce2c14","toggle-switch":"static/toggle-switch-4b14c9522febe","trending":"static/trending-afeb9f566e307","trigger-event":"static/trigger-event-2102a1cfb4595","tv-guide":"static/tv-guide-495271c3f333e","update-html":"static/update-html-67c21a5427d72","update-text":"static/update-text-996f5e59c9ceb","user":"core/js/modules/user","util":"static/util-6eb3edac75ccc","validator":"static/validator-cdb18615255be","vidiprinter":"static/vidiprinter-0503c9e606773","web-notifications":"static/web-notifications-ce28c6bc11961","widget":"static/widget-ff0bc7740c2ef","widget-lite":"static/widget-lite-2b9c9d756c3f5","widget-loader":"static/widget-loader-43a011c998123","window-observer":"static/window-observer-cf72e0bbc9b8f","your-say":"static/your-say-adfc74e896365"}});
require(['skysports_digrev'], function (appController) { appController.init(); });